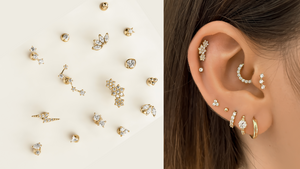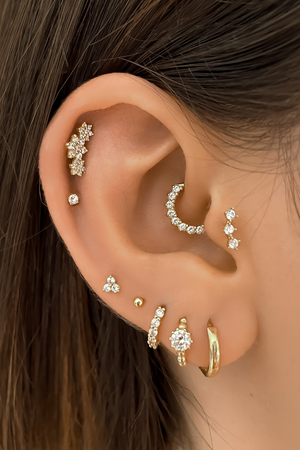 about
Assolari's exclusive ear styling service gives you the chance to get your ears uniquely curated based on your personal style and ear anatomy
This service provides a full ear styling project, with the best piercings and jewelry combination for your ear stack plus a $60 voucher to be spent on jewelry
How it works
TELL US ABOUT YOUR DREAM STACK
Fill out the questionnaire you'll receive once you complete your purchase and tell us all about your dream stack
Receive your ear project
You'll receive your ear styling project with piercings and jewelry recommendations that you can review and request any changes
get your jewelry
It's time you bring your dream ear stack to life! Use your $60 Assolari voucher to get your favorite jewelry from your ear project
Double Ear Styling
Loved how Bruna styled both my ears and took care and consideration with my personal requests as well. I'm slowly starting to incorporate each one and can't wait to share the end results with her :)
Double Ear Styling Service
Bruna did such a good job styling both of my ears. She took into account my current piercings, my suggestions on what earrings I really wanted to incorporate and made the appropriate adjustments when I asked for a few changes. I can't wait to order all of the pieces so I can bring her vision of my ears to life :)
Ear styling
I enjoyed this service and got great ideas how to style my ears. I brought the christian after i ordered the styling service and it looked amazing in my flat
Ear Styling Service
I´m really inspired by the ear styling done by Bruna and got some ideas how to style my ears in the future.
We had a miscommunication with the time zones and she was really apologetic and nice about it. I hope that the system will improve in the future.
The Issue that i have is that some jewelry was sold out so i had to wait and because of Brexit i have to pay customs and taxes now - which means that i will pay a lot on top (at least 19% more). I hope that there will be a European warehouse in the future so that it will be a easier to order for European Customers again.
Ear styling
The earstyling Was very easy for me to do. Everything was easy to understand (even for me as a german). I really love my styling. The possibility to talk to Brunna to change something about the styling was so nice. I bought some of the pieces **** soon **** possible. Iam really in love with all of the earrings 😍
meet your
ear styler
With her unique approach to ear styling, Brunna, our founder, is our ear-styling wizard.
She will use your piercings, style, and preferences to guide the creation of the best piercing and jewelry combination for your ear stack.
some of our favorite projects
Each purchase will include one ear styling service, which means that a single ear will get piercings and jewelry recommendations.
If you want us to style both, please purchase a second Ear Styling Service.
For customers who purchased two ear styling, please ensure two separate questionnaires are filled out to ensure your photo is attached.
Yes! You can request alterations to your ear project up to two times.
You will have 7 days to request alterations after your project is received.
We'll send your voucher alongside your final ear project.
From the moment you fill out the questionnaire, Brunna will have 7 days to create your ear project.
No! All communication is made through email!
No! Please keep in mind that all piercing suggestions are subjected to a professional piercer's discretion.
The goal of our Assolari voucher is to help out those that struggle with deciding on their next piercings and styling their ears.
You have 24h to cancel your Assolari voucher - after that this voucher will be non-refundable.
You'll get $60 voucher to spend on our jewelry, but the service doesn't necessarily cover the cost for all your project's recommended jewellery pieces.
Assolari currently only give suggestions in yellow gold.
It's very hard to estimate how much you will spend on jewelry for your ear stack before getting your final project.
However, you can let us know your budget once you purchase the service, and we can suggest the best jewelry combination based on it.
Yes, we will ask you to submit a photo of your ear in the questionnaire form.
The ear styling project is perfect for those that want to revamp their ear stack and get the best jewelry combination suggestion to create that Pinterest-worthy ear stack.
If this is what you want, this service is for you.